On September 26, 2019, 28 startups pitched their ideas to a panel of judges and investors to compete for over 2 million SAR in prize money at the finals of the TAQADAM Startup Accelerator Program. The program, now in its third year, was developed in partnership with King Abdullah University of Science and Technology (KAUST) and Saudi British Bank (SABB), to equip new entrepreneurs with the skills and know-how to launch a technology startup.
In line with Saudi Arabia's objectives of supporting new ventures, the TAQADAM Accelerator Program focuses on preparing new entrepreneurs for the challenges ahead, offering over six months of business training and mentorship in in various industries, including e-commerce, healthcare, and technology in addition to FinTech, gaming, engineering and science.
Over 1,100 participants, investors, and mentors gathered on the KAUST campus to watch the winners be announced at this third annual showcase, one of KAUST's flagship entrepreneurship events.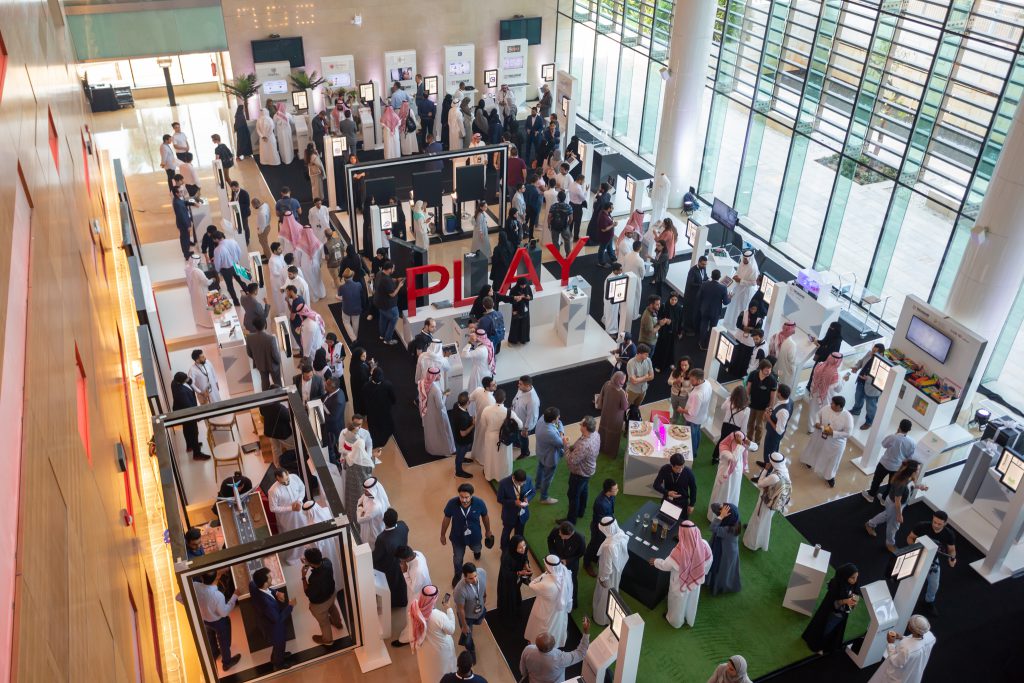 The theme of this year's event was 'The Future Reimagined.' This encouraged the program's entrepreneurs to create technologies of the future that would benefit Saudi Arabia. Working with mentors from the Entrepreneurship Center at KAUST, they were able to design, develop and take their startup ideas to market.
Kevin Cullen, Vice President of Innovation and Economic Development at KAUST stated: "At KAUST we are proud to support entrepreneurs and offer them the best environment and tools to create innovations that can change the world. Today we have watched some incredible ideas and technologies that are solving issues across different industries in healthcare, agriculture, water, food, gaming, education and more. Congratulations winners, well done."
Among the competing startups were one hundred founders from thirteen Saudi universities, representing a wide range of industries. During the event, each startup was given three minutes to pitch their ideas, followed with three minutes of Q&A, and another three minutes of feedback from the judges.
Launched in 2016 in partnership with SABB, the TAQADAM Accelerator has successfully graduated 78 startups and awarded over 9M SAR in funding.
Soren Nikolajsen, Deputy Managing Director, Transformation at SABB: "We're witnessing huge transformation in the Kingdom, so it's vital the next generation of businesses are helped to seize these opportunities. We're determined to play our part in building a more diverse and sustainable economy, and one of the best ways we can do that is supporting the grassroots of the business ecosystem – young entrepreneurs. Today's winners show just what a great job Taqadam has done developing new entrepreneurial talent."
Hattan Ahmed, Head of the Entrepreneurship Center at Kaust, added, "KAUST Entrepreneurship Center's main goal is to create high quality, high impact new ventures from across Saudi Arabia by providing the professional training and mentorship needed to help take their ideas to the market. We are so proud of the startups graduating from our accelerator program and we look forward to supporting more startups in the future."
The following 2019 TAQADAM accelerator program winners each received 375,000 SAR (100,000 USD):
Firnas Aero: Drones-as-a-service for airport infrastructure inspection.
Faseeh: Learning app to teach Arabic language skills to help raise Qiyas scores.
Genos Tech: Turning microalgae into high-value products such as Vitamin A and dietary supplements.
Peregrine Genomics: Providing accurate premarital genetic diagnoses in half the time and cost.
Gluco Jet: Non-invasive and pain free glucose testing for diabetes patients.
Talon Dust Control: Low-cost, liquid spray on solution for environmental dust control.
Carbon CPU was the People's Choice Winner, receiving 187,500 SAR from a live vote from the audience.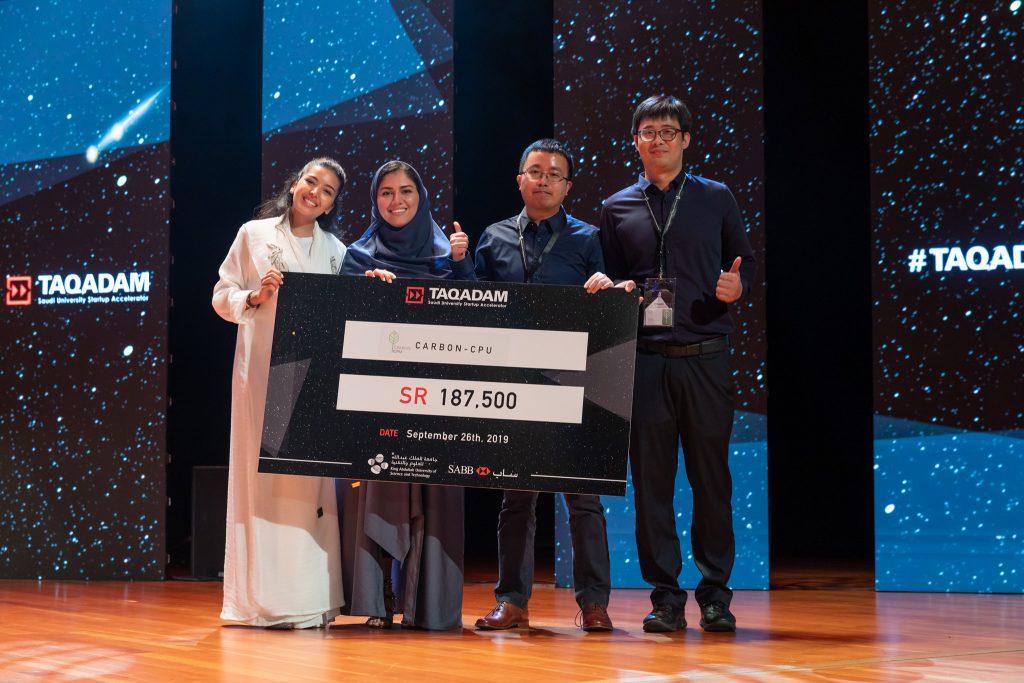 In regards to his win, Abdulelah Saleh, GloucoJet co-founder stated, "Walking away with a $100,000 check by the end of the pitch day is what we have worked on from the beginning of TAQADAM Accelerator. This marks the beginning of our journey and we hope to achieve more in the future."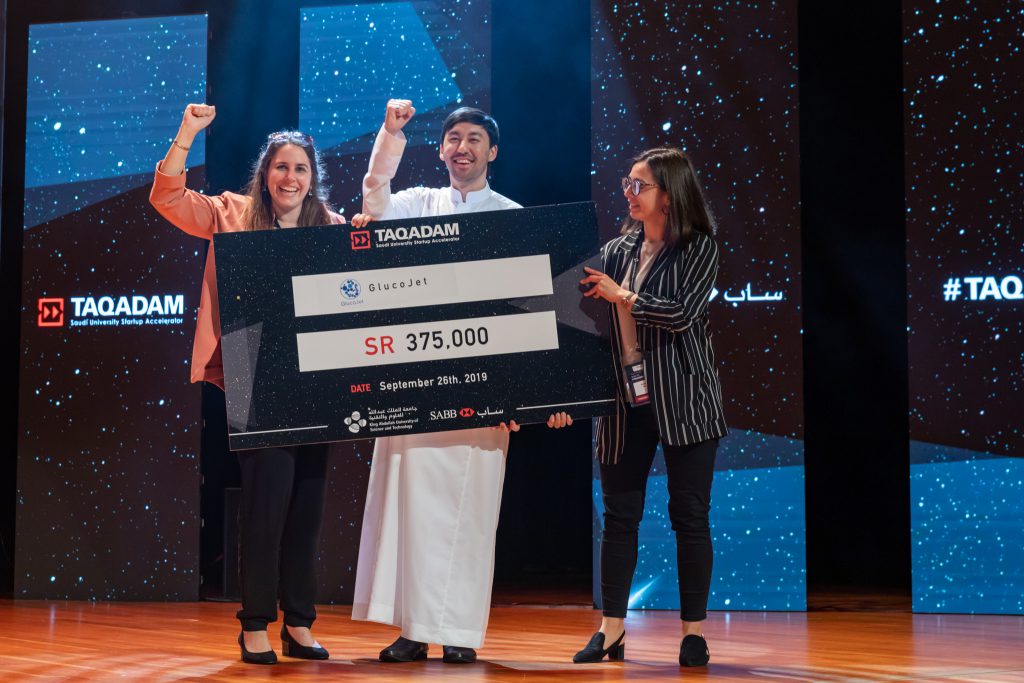 "It was an unbelievable moment and an overwhelming feeling," said Yara Aldrees, Carbon CPU co-founder. "Winning the people's choice award has really encouraged us. Carbon CPU will thrive and we will continue doing more of what we do."