As Saudi Arabia's leading research university, KAUST is a place where big ideas are given the room to grow. Founded a little over ten years ago, the university has already made a significant impression on the international stage for the quality of its research and education, consistently ranking first for research citations per faculty member in the QS World Rankings.
But the true value of a big idea is realized when it is applied to the real world, which is why KAUST also plays an important role in advancing, promoting, and supporting the Kingdom's entrepreneurial ecosystem. Acting as a national and international hub for some of the world's most exciting fledgling businesses, KAUST has seen over 250 startups graduate from its development and training programs to date and has backed 60 startups through the KAUST Innovation Fund.
By instilling an entrepreneurial mindset in its students and investing in deep tech startups, KAUST aims to help entrepreneurs bridge the gap between ideas and impact, catalyzing the growth of successful businesses that add value in the Kingdom and beyond.
One such business is Edama Organic Solutions, an innovative organic waste recycling startup founded right here at KAUST in 2017 and based in the KAUST Research and Technology Park. Edama is the first company of its kind in Saudi, and it sits poised to revolutionize the way organic waste is managed in the Kingdom by tackling two key challenges.
The first challenge is waste pollution. Organic waste is piling up in Saudi Arabia and around the world. Today, the majority of organic waste goes straight to landfill sites where it becomes a pollutant, adding to greenhouse gases and leaching harmful chemicals into the soil and groundwater.
The second challenge is food and water security. Because of the low fertility and water holding capacity of local sandy soils, desert agriculture is extremely inefficient. Saudi, for example, uses over 80% of its precious freshwater resources in agriculture but produces only 25% of its food. Food demand is also on the rise in the region, with pressure from a large and fast-growing population expected to see food demand double in the MENA region by 2050.
Turning food waste into a resource for desert agriculture
Less ambitious entrepreneurs than Edama's four cofounders – three of whom have completed master's or PhD programs at KAUST – might have satisfied themselves with tackling any one of these issues. Instead, Edama's founders set their sights on solving all of them. And with sustainability an important element of Vision 2030, their timing couldn't have been better.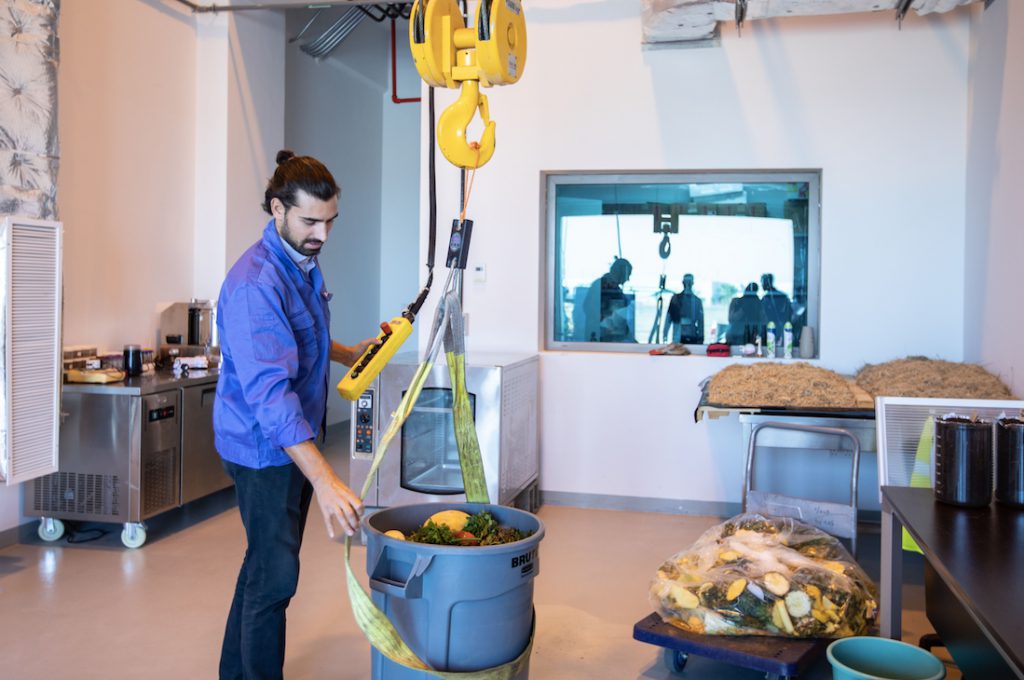 When most people talk about 'waste', they see a problem that needs to be solved. Edama's cofounders, however, realized that organic waste isn't a problem at all; it's an opportunity – an important resource rich in beneficial nutrients. By taking organic waste and composting it, Edama turns waste into potent specialized soil-improver products that are of huge value to the local agriculture industry.
"Our innovation was in adapting the composting process to the local conditions, which are very arid and hot," explains Sabrina Vettori, a KAUST PhD graduate and Co-founder and CEO at Edama. "This ensures our products excel in desert environments, helping to enrich local sandy soil and dramatically improving water retention."
"Another particularly interesting innovation was the development of a treatment of palm waste which is a challenging waste material that is problematic to dispose of. Currently, it is either burned or landfilled", explains Mitchell Morton, Co-founder and CTO at Edama, PhD in Desert Agriculture at KAUST. "Instead, we developed a process to convert it into a product for the booming water-efficient hydroponic industry".
Edama collects and processes organic waste, turning it into products that help Saudi farmers grow crops more efficiently, with these crops eventually going on to become organic waste once more, starting the cycle anew. This unique circular economy forms the basis of both an excellent business case and an innovative idea that provides real value to the Kingdom. The burden on landfill sites is reduced, unnecessary CO2 emissions are minimized, and the agriculture sector benefits through soil products specifically designed for desert agriculture.
To date, products include 'Edama Desert Compost', an organic soil improver that makes sandy soils as fertile as possible while improving water retention. The other product is 'Edama Palm Peat', a hydroponics growth medium made using date palm waste – a common by-product of the date industry that is otherwise sent to landfill sites or burned.
Edama Organic Solutions TAQADAM Experience
Edama graduated from KAUST's TAQADAM Startup Accelerator, which is designed to help promising startups achieve their potential through support in ideation, marketing, fundraising, and product design, as well as financial backing. In 2018 they were one of 6 winners, an achievement that has led to the construction of their pilot composting facility. The first of its kind in the Kingdom, this facility now handles 50 tons of organic waste per year.
Edama CEO Vettori recognizes the impact winning the award had for Edama. "As well as the pilot facility we've built, the exposure provided by the TAQADAM program really helped us gain traction with external partners and potential customers."
The program also provided Edama with a connection to the KAUST Innovation Fund, a venture capital firm that aims to grow the innovation and technology investment community while attracting international investors into the emerging Saudi startup ecosystem. A recent seed funding round raised $780k, which Edama will use to support operations for the next year and a half in order to help fast track growth, expand the team, execute projects, and further develop their products.
But KAUST's investment in Edama is not solely financial. As an institution, KAUST is committed to sustainability – an emphasis that is reflected in the university's research agenda, campus planning, and operations. The entire KAUST campus earned a platinum rating – the highest possible level of certification – on the Leadership in Energy and Environmental Design (LEED) scale produced by the U.S. Green Building Council.
Edama's innovative waste management solution provides KAUST with an opportunity to achieve one its key sustainability goals – to become a zero-waste organization.
To this end, a brand new Edama facility is to be built on site at KAUST is currently in the planning stage. The aim is for the facility to process all of KAUST's organic waste, which accounts for 5,500 tons each year and approximately 75% of all waste produced on site.
It's an opportunity that provides value on both sides – KAUST will take a big step towards achieving an important sustainability goal, and Edama will have a living, breathing success story to share with future customers and investors alike.
Edama is poised to export its technologies and products across the Kingdom and to the MENA region, directly addressing food security, water scarcity and pollution issues, and contributing to the realization of the Saudi 2030 Vision and the sustainable development of KSA's growing cities and mega-projects.