On March 3, 2020, 45 startups from around Saudi Arabia participated in a 3-day bootcamp training at King Abdullah University of Science and Technology (KAUST) in preparation for the MITEF Saudi Startup Competition finals. Over 100 entrepreneurs, investors, and mentors gathered in KAUST for the bootcamp. The semifinalists prepared for the Saudi finals through pitch practice training, receiving feedback from expert mentors and networking with the top founders and trainers from Saudi Arabia's entrepreneurship ecosystem.
Ghallah and Firnas Aero win at MITEF Saudi Startup Competition StartSmart 2020
KAUST is proud to announce that Firnas Aero placed first, and Ghallah placed third in the Idea Track at MITEF Saudi Startup Competition StartSmart 2020. Both startups are graduates of TAQADAM Startup Accelerator, a program powered by KAUST and SABB now in its fourth year to support entrepreneurs. Firnas Aero provides drone-as-a-service for airport infrastructure inspection. Ghallah provides a management system for monitoring the labor force to maintain palm health. Both startups will go on to pitch at the regional MITEF Pan Arab finals in Abu Dhabi.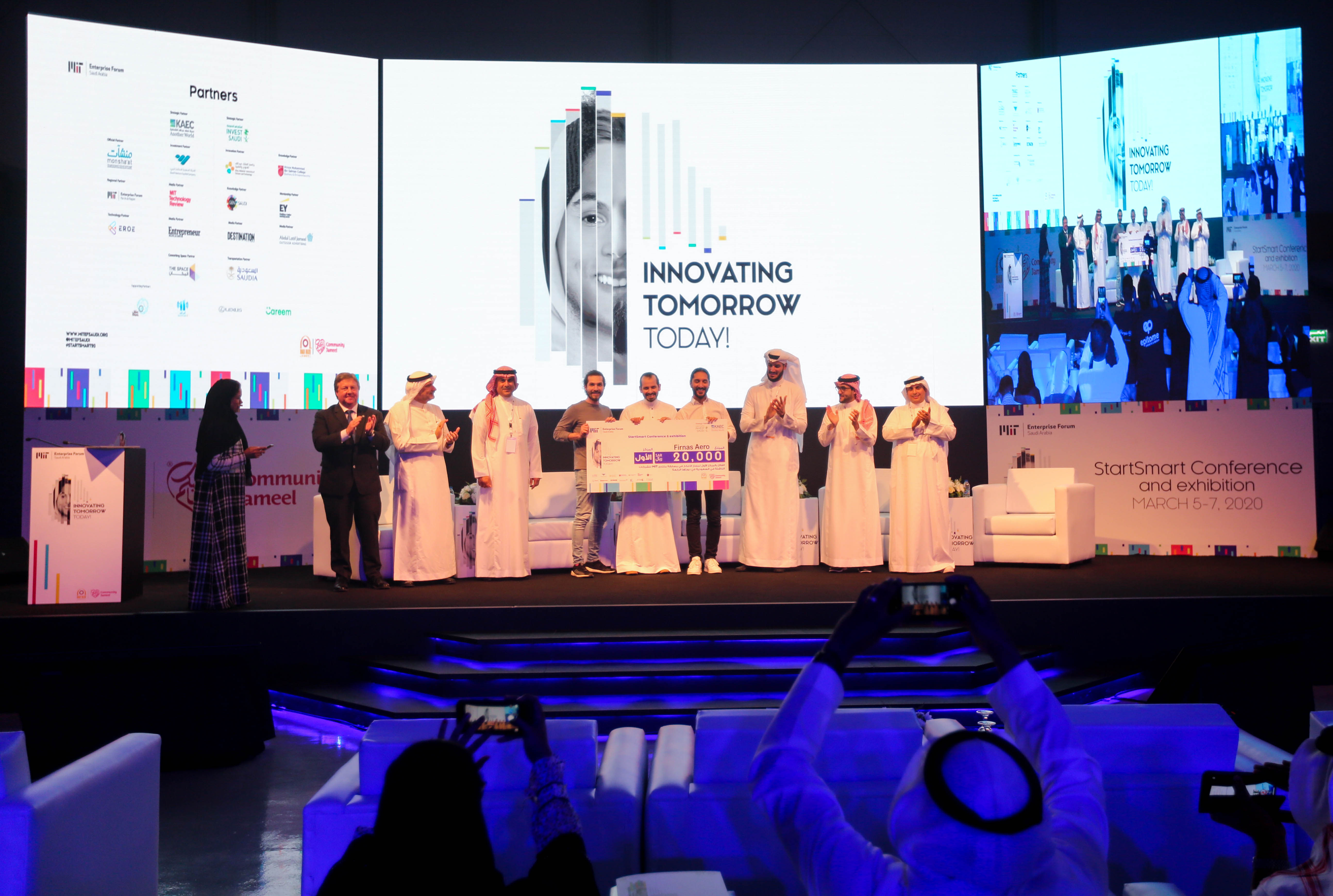 "We are so happy that we won first place at MITEF Saudi. Participating in this competition has encouraged us to continue improving our startup and enabled us to connect with expert investors and mentors. Thank you MITEF Saudi and KAUST for your support and for providing us with the right environment for us to grow," said Tariq Nasraldeen, co-founder of Firas Aero.
The MIT Enterprise Forum is a global organization affiliated with the Massachusetts Institute of Technology (MIT). MITEF Saudi is part of a global network of chapters that empower entrepreneurship and innovation from around the world to become active leaders. This year, over 5,000 applicants applied to pitch for the MITEF Saudi StartSmart competition finals.
Of the 45 finalists at MITEF Saudi, 7 were graduates of KAUST's own entrepreneurship programs – including the TAQADAM and 9/10ths accelerators. The finalists included: Firnas Aero (TAQADAM 2019), Ghallah (TAQADAM 2019), Sanoor (TAQADAM 2019), Arabi (9/10ths), Scientific Saudi (9/10ths), WiSensing (TAQADAM 2018), and DORMAGG (TAQADAM 2018).
"We are so proud that our startup grads are pitching in the region's top startup competitions and even competing at a global level," said Hattan Ahmed, Head of KAUST Entrepreneurship Center. "Congratulations to Firnas Aero and Ghallah and to all the winners. This is another successful event and we are proud to partner with MITEF Saudi. Both of our missions are in-line with Saudi Arabia's objectives of supporting new ventures and we are looking forward to continuing our entrepreneurial journey at MITEF Pan Arab."